Asphalt Drum Mixing Plant
about this model
technical data
brochure download
DHB series asphalt drum mixing plant
, it can produce asphalt mixture continuously, with less material but higher working efficiency, the finished product can be used for third-class road and below. It includes old aggregate supply system, burner, drying and mixing drum, water dust catcher, bitumen supply system, and electrical control system.
Capacity of DHB series Asphalt Drum Mixing Plant:
DHB20 20t/h, DHB40 40t/h, DHB60 60t/h, DHB80 80t/h
Diagram of DHB series Asphalt Drum Mixing Plant: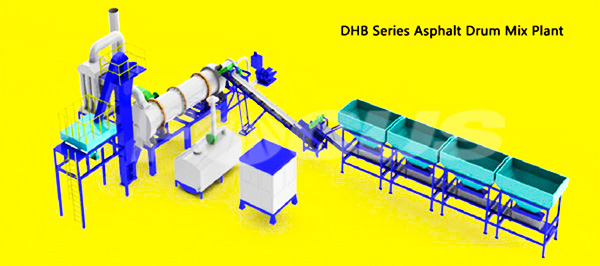 Main Parts of DHB Series Asphalt Drum Mixing Plant:
1.Cold Aggregate Batcher
It can make aggregate material of four different sizes mixed well according to the construction requirement, for the oversized grain, it will be separated by the middle screen, and the qualified material will be conveyed into drying drum by tilted belt conveyer.
2.Mixing Mainframe
Integrated drying, heating and mixing in the whole part: the aggregate material will form an inadequate material flow in the drying section and go ahead promptly for preheating, and then it will form a sufficient material flow and heat quickly in the heating section. In the mixing section, the asphalt and will be sprayed into the aggregate material, which makes the aggregate material and asphalt mixing equably.
3.Burning System
Coal burner:
The high efficient coal crusher integrated with speed adjustable coal powder supply, it provides the coal powder with size of less than 50 micron far the burner. The burner adopts oil supply device and wind supply device, and can provide sufficient heat energy for the mixing plant.
Oil Burner:
The burner can use both diesel and heavy oil. Oil circuit system is separated with the burner body, safe and convenient and flexible. The working pressure of the oil pump is 12 bar, long service life, oil selection is wide.
4.Control System
The heat overload protect breaker is safe and reliable, the whole set control system is integrated on the operation platform, which is convenient and shortcut. The equipment has two operation modes: inter-lock operation and single-machine operation, which is convenient for equipment commissioning and production.
Please fill below form if need quotation or support, we will get back to you as soon as possible.
Click to enlarge the form
Parameter of DHB series Asphalt Drum Mixing Plant:
Model
Capacity
(t/h)
Measurement Accuracy
Total Power
(kw)
Fuel Consumption (kg/t)
Aggregate
Bitumen
Coal
Oil
DHB20
20
±1.5%
±1%
40
10
5.5-7
DHB40
40
±1.5%
±1%
75
10-13
5.5-7
DHB60
60
±1.5%
±1%
128
10-13
5.5-7
DHB80
80
±1.5%
±1%
165
10-13
5.5-7